Transitions® Lenses
Transitions® Lenses offer much more functionality than an ordinary lens, and so it is ideally suited for some who want the added functionality of a darker lens in bright lighting conditions. While Transitions® lense colors differ depending on the one you choose, all lenses adapt to changing lighting conditions outdoors and indoors. The goal of these lenses is to reduce eye fatigue or strain, which can cause some people to suffer from headaches.

Transitions® lenses are for everyone, whether they have a prescription or not. Anyone who can wear sunglasses or regular glasses can easily wear and adjust to wearing Transitions® photochromatic adaptive line of lenses. Not to mention that Transitions mirror lenses are available in different color options ensuring that there is something for everyone of all ages.

What are Transitions Lenses and How Do They Work?
Transitions® Lenses eyewear lenses come with built-in adaptive technology. These lenses include the XTRActive™, Vantage™, and Signature™ line of products. All lenses by the brand promise advanced adaptive technology, which sets the standard for visual comfort, quality, and, most of all eye protection.
It is interesting to note that all Transitions® lenses are made to block 100% percent of harmful UVB and UVA rays. By blocking these harmful rays, they improve the health of the wearer's eyes.
Transitions Lens Technology
Transitions® Lenses, while they may all appear to be the same, employ two types of light adaption technologies. When buying these lenses it is important to know the difference between each type:

Photochromic Technology
The technology uses dyes that are made to constantly recalibrate as the lighting conditions change




Darken when in cold place




Reactive to indirect and direct light



Variable Polarization
The lenses will darken which increases polarization




The wearer experience as sharper and clearer vision outdoors




The dyes will darken as well as align to create a repeating pattern of horizontal lines which are meant to reduce if not eliminate glare completely
Blue Light Blocking Capabilities


Blue light emissions can be dangerous for your health. Over the past few years, we've discovered an array of harmful effects of blue light, especially those coming from digital devices as well as the sun. The good news is that all Transitions Lenses block blue light.

The Transitions® Signature™ series of lenses block 20% of indoor sources of blue light and more than 85% of outdoor blue light.

Transitions Vantage lenses are capable of blocking around 34% of indoor sources of blue light and around 85% plus of outdoor sources




The XTRActive lenses offer better protection by being able to block 34% indoor blue light and approximately 88% percent of blue light from outdoor sources.
How much do Transitions® lenses cost?
Transitions lenses, on average, cost anywhere from $100 to $400. Many factors go into the final pricing of the lenses which includes the type you're purchasing. For instance, you can choose from plastic, bi-focal, progressive and polycarbonate lenses. So, some of these lenses are more expensive than others. However, they all double as sunglasses with UV protection and reduce eye fatigue when worn outdoors.
Who is the Transitions Signature Recommended For?
The lenses are highly recommended for teenagers and young adults. One reason for this is that the graphite green is immensely popular amongst young people and is a fashion statement. They go well with larger ophthalmic frames, which also happen to be in style.
The Transitions® Signature® GEN 8 Lenses


Out of all Transitions lenses, the Signature GEN 8 Lenses are very well priced for the features they offer.
Get the best protection for your eyes
Protection always on
Blocks 100% UV and protects from harmful blue light**
Less bothered by changing light***
Available in Gray, Brown and Graphit Green

Transitions® Signature® Vll (New Style Colors)

The Signature™ series happens to be the most highly recommended adaptive lenses across the world because they are ideal for everyday use. The lenses are entirely clear and free from distortion during the night or when indoors. However, when worn outdoors they (the lenses) will continuously adapt to the varying lighting conditions to provide the best clarity and to protect the wearer's eyes from glare, strain and eye fatigue by improving contrast and clarity

The Transitions® XTRActive®
Who are these lenses recommended for?
Transitions XTRActive can be worn by most people. It is ideal for wearers who want their glasses to darken when behind the wheel. The slight tint associated with these lenses indoors makes it ideally suited for working on the computer as it removes most of the harsh light emitted by the monitor.



The Transitions XTRActive™ is especially designed to protect the eyes from bright lights. They are ideal for people who often need to work in varying lighting conditions. The XTRActive lenses feature:
They become extra dark when outdoors, and have a slight tint when worn indoors which protects the pupils from harsh lighting indoors




The lenses darken behind the windshield of the car which protects drivers from oncoming sunlight
Transitions XTRActive lenses happen to be the darkest regular wear adaptive lenses available today. However, they maintain a comfortable tint when worn indoors and when driving. When worn outdoors, they can reach superior levels of darkness in extreme bright light. XTRActive is ideally suited for people wearing prescription lenses but are also sensitive to light or may spend a lot of their time outdoors.

Transitions XTRActive Style Mirror Lenses
Transition XTRActive Style Mirror lenses come in 6 new style colors
Silver Shadow

Blue

Gold

Pink

Red

Green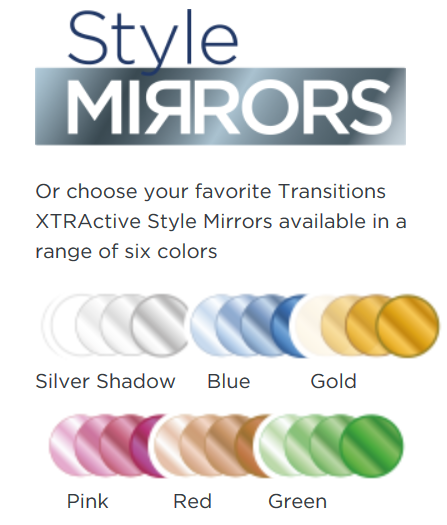 The Transitions® Vantage™ Lenses
One of the leading features of the Vantage line of Transitions' lenses is that they can both darken as well as polarize when exposed to UV light. So, they can be perfectly clear when worn indoors and completely non-polarized, but as soon as they are exposed to bright sunlight, their polarization increases and they darken, making indoor vision crisper and sharper.
Varying polarization

Blocks 100% percent of all UVB and UVA light

The Vantage line of lenses are also available in grey
When someone who has never worn Transitions Vantage™, and wears one for the first time, they notice that the water appears transparent, and there is reduced glare. Also, their eyes don't hurt even in the brightest sunlight, with next to no glare noticed.

Who is ideally suited for Vantage lenses?
They are ideally suited for people who engage in outdoor hobbies like hunting and racing. They may even be suitable for climbers and runners.
Transitions® DriveWear® Lenses
The technology behind the Transitions® DriveWear® Lens puts together NuPolar® polarization and Transitions™ to create a
lens to improve the wearers vision in all conditions behind the windshield.
Transitions® Drivewear® sun lenses are capable of sensing and reacting to varying light conditions, both outside and behind the windshield of the car. From overcast conditions, to bright sunlight accompanied by blinding glare, Transitions Drivewear lenses provide the wearer with the ideal solution.
In low light or overcast conditions, the lenses are a green/yellow color that provide high contrast and minimize glare

Behind the windshield, the lenses activate to a copper color enhancing color recognition and depth perception

In bright outdoor light, the lenses activate to a dark red-brown filtering excess light to provide maximum comfort
DAYLIGHT
DRIVING CONDITIONS
COPPER COLOR
Color: Designed to remove excess light and provide good traffic
signal recognition; highlighting the reds and greens

Polarized: To remove glare for safe driving
BRIGHT LIGHT
OUTSIDE CONDITIONS
BROWN COLOR
Color: Designed for maximum filtration of excess light so that
the eye does not get saturated

Polarized: To provide maximum comfort in high light conditions
OVERCAST
LOW LIGHT CONDITIONS
HIGH CONTRAST OLIVE GREEN COLOR
Color

:

Designed to maximize useful light information reaching the eye

Polarized

:

To remove glare that would otherwise

destroy vision in low
light conditions