Varilux® Progressive Lenses
Varilix Progressive Lenses by Essilor the worlds largest eyeglass lens company are known for it's premium lenses and coatings. Varilux® lenses provide clear vision at any distance and known for their superior quality. Whether your looking for a new pair of eyeglass frames and Varilux® progressive lenses or eyeglass replacement lenses for your own frame, Varilux® progressive lensesare a clear choice.
Here at RxFramesnlenses.com, we are focused on quality and that is why we choose Varilux® as our number one choice in
premium progressive lenses. Varilux® lenses are recommended the most 4 out of 5 times by eyecare professionals.
Check our progressive lens prices and compare with other online retailers you will see that our prices for Varilux® progressive
lenses are the best online.
Varilux Comfort® W2+ lenses give you sharp, natural vision at any distance even in low lighting conditions. No more squinting in low lighting conditions, during dinner or enjoying a beautiful sunset. The Varilux® Physio® W3+ Progressive lens uses your
prescription from both eyes so your lenses work as a pair, letting your eyes work better together. The Varilux® X Series™ has the new Xtend™ Technology, which extends your vision within arm's reach eliminating the need to move your head around to find your focus.
All Varilux® Lenses come with a certificate of authenticity to ensure you are getting genuine Varilux® Lenses. Our licensed opticians are board certified and will fill your progressive eyeglass prescription how it is written by your Doctor, just provide a copy of your prescription along with your pupil distance. Varilux Progressive Lens Prices List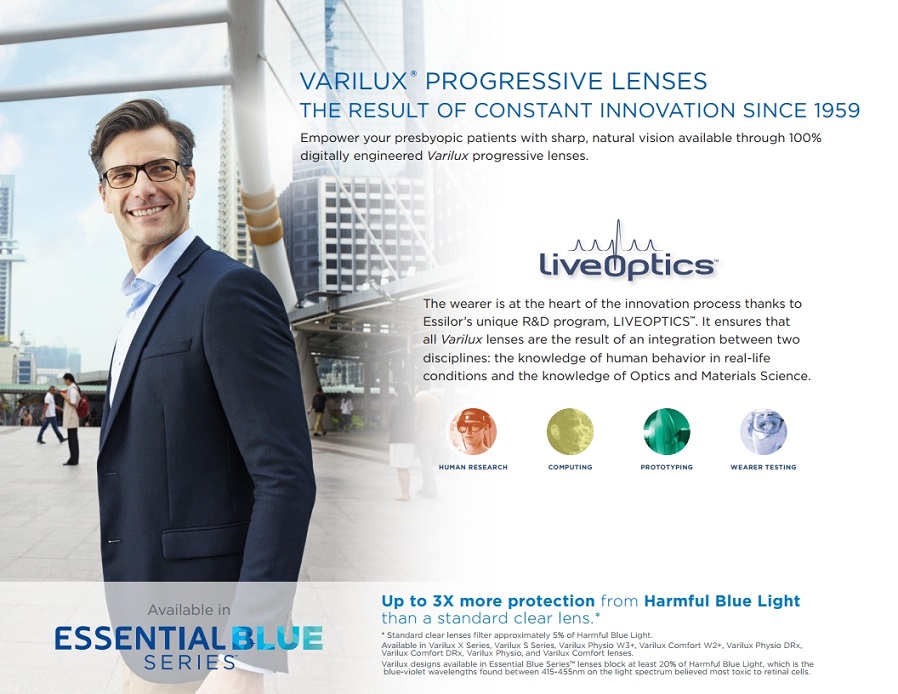 Varilux Comfort® Progressive Lenses
The Varilux Comfort® lens performance is designed to meet the visual demands of patients. Moving from large objects or distance to every distance in between.
Varilux Comfort® lenses use wavefront technology that reduces or eliminates aberrations and provides unmatched performance.
Allows for better transition and access to new vision

Widened distance and near zones for increased visual comfort

Ruduced Astigmatism in the intermediate zone to help reduce swim.
How Do Varilux Comfort® Lenses Work?
The lenses were created after carefully observing the visual behavior of several hundred people. Today, these lenses offer a smooth transition by adapting to the wearer's eyes, visual ergonomics, and the environment allowing them to maintain a natural posture for excellent comfort, making adjusting to these lenses very easy.
Varilux Comfort® allows for:
Easier and quicker transition

Significantly reduced peripherical blur and better adaption
A wider distance and better vision for near zones offering increased optical comfort





Varilux Comfort® W2+ Progressive Lenses
Varilux Comfort® W2+ progressive lenses are designed with Wave Technology 2, giving the wearer sharp clear vision even in low light conditions.
The W.A.V.E Technology 2: Wavefront Advanced Vision Enhancement™
The W.A.V.E Technology 2 works to offer the sharpest vision at any distance even when lighting conditions aren't ideal.
The technologyoffers two benefits:
Eliminates distortion based on a wearer's prescription

Customizes wavefront correction based on what is required for the wearer
The types of Varilux Comfort Progressive Lenses do all of this without any additional equipment or measurements by the optician. So, a wearer's eyes can transverse large distances without compromising their vision. This type of lens is ideal for people who are working in visually lit environments, often with different devices of varying brightness and sharpness.


Varilux Physio® Progressive Lenses
The Varilux Physio is ranked amongst the best traditional progressive lenses in the world when it comes to offering the widest field of view and comfort. The latest Varilux Physio DRX digital progressive lenses utilize high-tech digital HD grinding to provide the widest field of view compared to competing lenses.

The Difference Between Varilux Physio lenses and Comfort Lenses?
The Physio line of lenses by the company offers all the perks of the Comfort line but with added fields of view which provides clarity across all focal lengths, even seeing in dimly lit environments is more comfortable because it eliminates blur. So, wearers don't miss any details using these high-functioning progressive lenses.

How Varilux Physio® Lenses Improve Sharpness
Visual sharpness has two primary components, i.e. contrast and visual acuity. The lenses work by reducing if not nearly eliminating higher-order aberrations, resulting in better contrast sensitivity and 30% percent better color and visual details. The Physio line of lenses is the only one shown to improve contrast sensitivity across all fields of vision.
The Varilux Physio® Line of Progressive Lenses:
Essilor Currently manufactures and sells four Varilux Physio lens designs. These lenses differ in the improved contrast,
wider field of view, and comfort.

1.The Varilux Physio® W3+ Lenses
The Physio W3+ offers wearers smoother transitions from near to further objects and vice versa, in addition to sharper low
light vision thanks to the use of W.A.V.E2 Technology. The so-called Binocular Booster works by factoring in the prescription
for both eyes to calculate the right type of lens pairs. The benefit of this is that it gives both eyes the ability to work better as
a pair to maximizes vision.

2.The Varilux Physio® DRX Lenses
Varilux Physio DRX digital progressive lenses are complete backside digital PAL design lenses that use the W.A.V.E Technology
to guarantee sharper vision. The lenses work by positioning the near zone in the most optimal location for the wearer's own RX.

3.The Varilux Physio® Enhanced Lenses
These lenses are best known for their ability to improve sight in low-light conditions. They do so by offering improved transitions from different visual zones. The Lenses use DualOptix technology, which allows for customized near vision that's mainly based on the wearer's current prescription to ensure higher contrasts and more detail.

4.Physio® & Physio® Short
The Physio & Physio Short works by controlling focus and reducing distortion. They deliver the sharpest possible vision and the least distortion. These lenses, like the ones above, also benefit from the use of W.A.V.E Technology ensuring the sharpest vision.


Varilux X Series™ Progressive Lenses
Varilux® X Series™ progressive lenses are designed with Xtend™ Technology, This technology allows the wearer to see
multiple distances through each area of the lens. This allows the wearer to see sharply at any distance and find just the right
spot to see sharply at any distance. The Varilux X Series Lenses were designed taking into account viewing distance of beyond the regular 3 meters and near vision of around 40 cm as well as intermediate vision. The Varilux lenses X Series were designed by observing today's wearers and identifying their visual needs. According to researchers, there was a need for people to see up to 70 cm or arm's length, which falls between intermediate and near distance. Unfortunately, the near intermediate, also known as the arm's length of human vision wasn't as well studied or researched. So, this is where researchers focused most of their attention, with the result being the X Series.

What's New with the X Series
The Varilux progressive lenses allow wearers to achieve natural vision. So, in addition to being able to see vivid detail and
experience smooth transitions at just about any distance, the Varilux X lenses also extend the visual experience to around
arm's length, so there is no need for wearers to tilt their head to find the so-called sweet spot. The result is sharp vision
that feels the most natural. Finding the Varilux X Series Lenses online was initially difficult because of the tremendous demand for these lenses. However, today, the cost of Varilux Series lenses is within the reach of most people. Not to mention the fact that it makes the lives of many people a lot easier and comfortable. The Varilux X Series Lenses are recommended for people working in environments where visual accuracy is extremely important.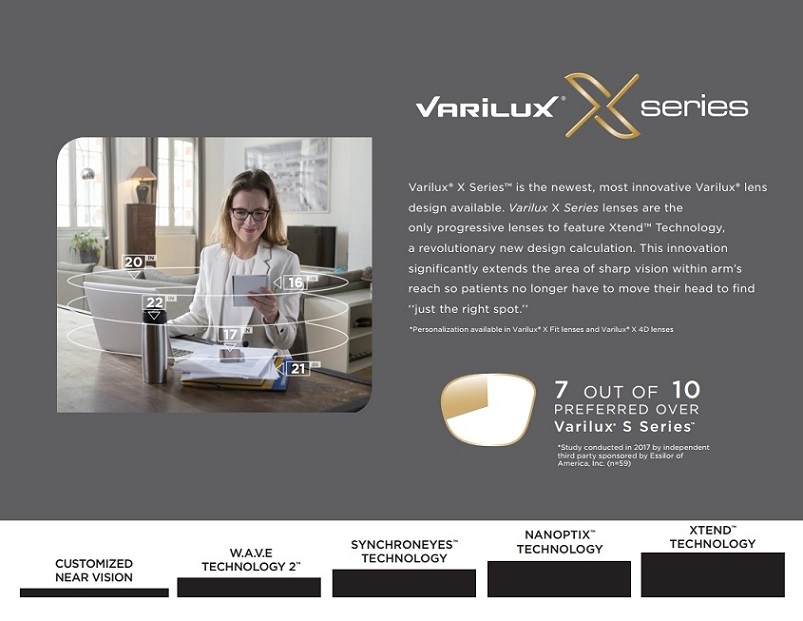 Varilux® Ellipse maximizes your vision in smaller frames Award winning progressive lens designed especially for small, fashionable frames. Offers wider fields of
vision in smaller frames, for more comfortable viewing.


Available in Plastic, Polycarbonate, and Hi-Index (1.67)

lenses.
Varilux® Certificate OF Authenticity
Your Eyecare Professional should provide a Certificate of Authenticity with your new Varilux® lenses. While there are hundreds of progressivelenses on the market, only Varilux® lenses come with this Certificate of Authenticity. If you don't get this card, you won't know your lenses are genuine Varilux® lenses